Operating Instructions Rasenkantenboy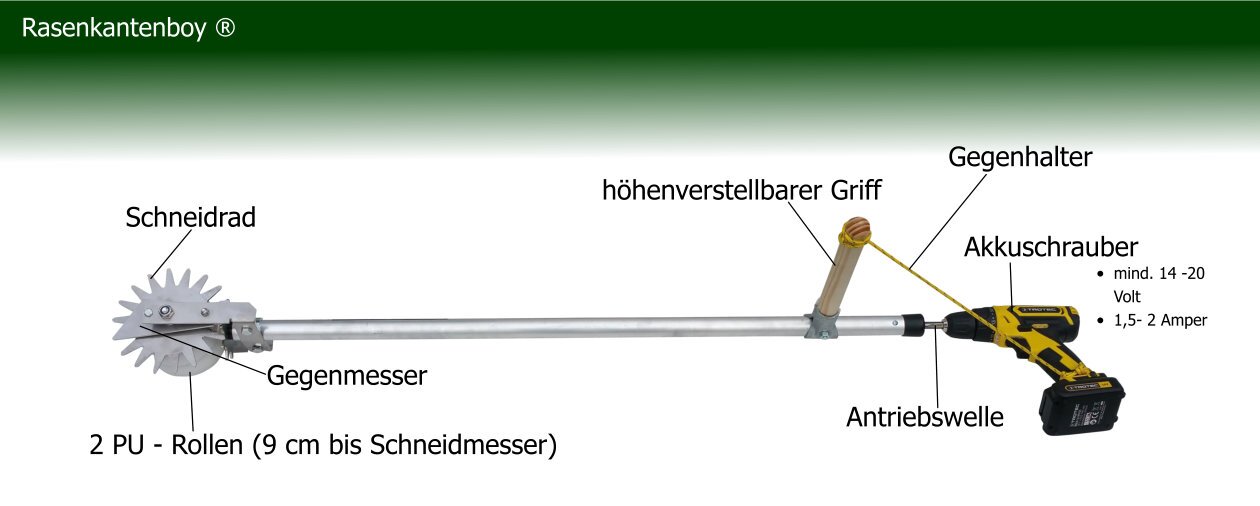 Operating instructions lawn edge boy
Here you can find out how to use our Lawn Edger Boy and what you should pay attention to when using it.
   

Clamp the Lawn Edger Boy firmly with an existing cordless screwdriver (min. 14-20 volts & 1.5 - 2 amps). Tighten after a short first use!

    Loop the cord on the handle of the Lawn Edger Boy around the handle of the cordless screwdriver so that the handle is at a 90° angle to the drill. Please knot the cord to tension.

    Hold the cordless screwdriver in your right hand and the wooden handle in your left hand so that you can guide the Lawn Edger Boy neatly along the lawn edge.

    Set the cordless screwdriver to the slowest setting (setting 1) and set the torque setting to the drill setting (drill symbol).

    Place the plastic rollers on the edging stone and position the cutting blade next to the edging stones. It is important to move back and forth several times during the very first use and to apply pressure to the cutting head. NOTE: This is a little more strenuous the first time you use it. However, once the groove next to the edging stone has been cut for the first time, this is very easy the next time you use it.

    The lawn edger does not need to be oiled or sharpened. Due to the interaction of the cutting wheel, spring and counter blade, the lawn edger sharpens itself.

Attention!
Run tools at your own risk. No liability for injuries.

Caution:
Remove the drive before working on the cutting head.